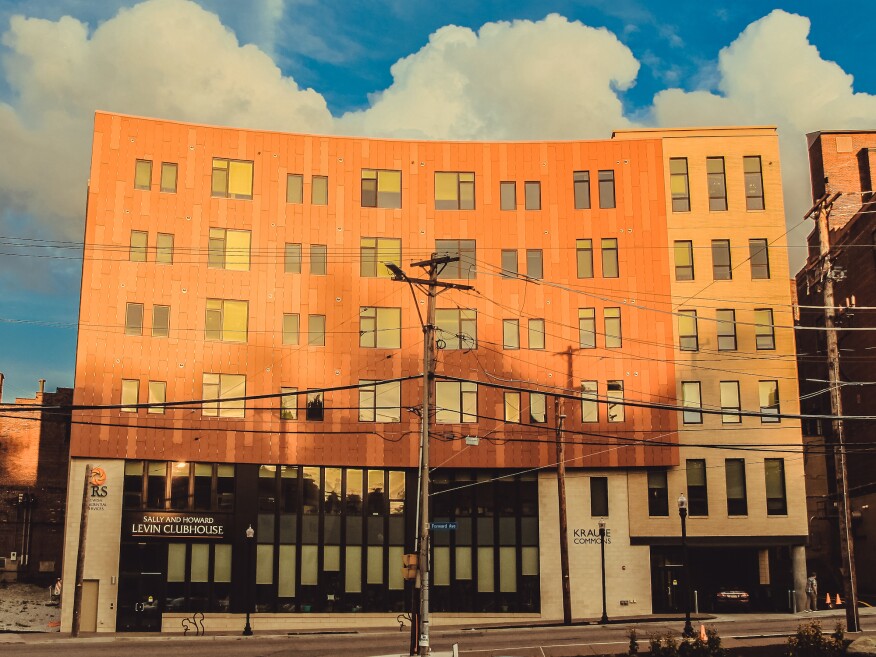 A mixed-use development with affordable housing and a service provider space has revitalized a blighted, five-way intersection at the gateway to Pittsburgh's Squirrel Hill neighborhood.
Krause Commons, developed by Pittsburgh-based ACTION-Housing, provides 33 units of housing, with 17 units for residents with intellectual or mental health disabilities and the rest for households earning 60% or less of the area median income. The first two floors of the six-story building, which was completed in November, are home to service provider Jewish Residential Services' administrative offices and the expanded Sally and Howard Levin Clubhouse, which serves adults whose lives have been disrupted by mental illness.
"The development announces that Squirrel Hill is the inclusive community that it is," says Lena Andrews, senior development officer at ACTION-Housing. "It's really catalyzing development at that intersection, which for a long time was just vacant buildings. Now it's vibrant. There's a lot more activity, with all the people inhabiting the new building."
It's also helping to meet the need for supportive housing for those with intellectual and/or mental health disabilities in the region. Two ACTION-Housing developments serving residents with disabilities have long waitlists, and Allegheny County has a list of more than 1,400 people waiting for intellectual disability-related services, including housing.
"In addition, there's a need for affordable housing beyond the supportive housing in the building," adds Andrews, noting that hundreds of applications came in for the 33 units. ACTION-Housing provides supportive services for residents, including financial counseling, help securing benefits, and access to free transit passes. It also has partnered with Jewish Residential Services to offer enhanced aid, including a part-time program coordinator.
The development team had to overcome myriad challenges on the odd-shaped urban site, including a dead waterline, large foundations from a nearby smoke stack, and no space for parking. In the end, though, it created a highly efficient, modern building. ACTION-Housing and architect FortyEighty Architecture utilized best practices from previous developments, including elements of Passive House construction like solar orientation and highly efficient insulation, to boost energy performance.
The $16.4 million residential portion of the development was financed primarily with low-income housing tax credits allocated by the Pennsylvania Housing Finance Agency. National Equity Fund served as the equity syndicator, with BNY Mellon as the investor. Pittsburgh's Urban Redevelopment Authority also provided a soft loan.
ACTION-Housing will continue revitalizing the gateway to the neighborhood, and it recently received an LIHTC allocation to develop 43 affordable units, with 25% of the units for households with disabilities, on the site adjacent to Krause Commons.