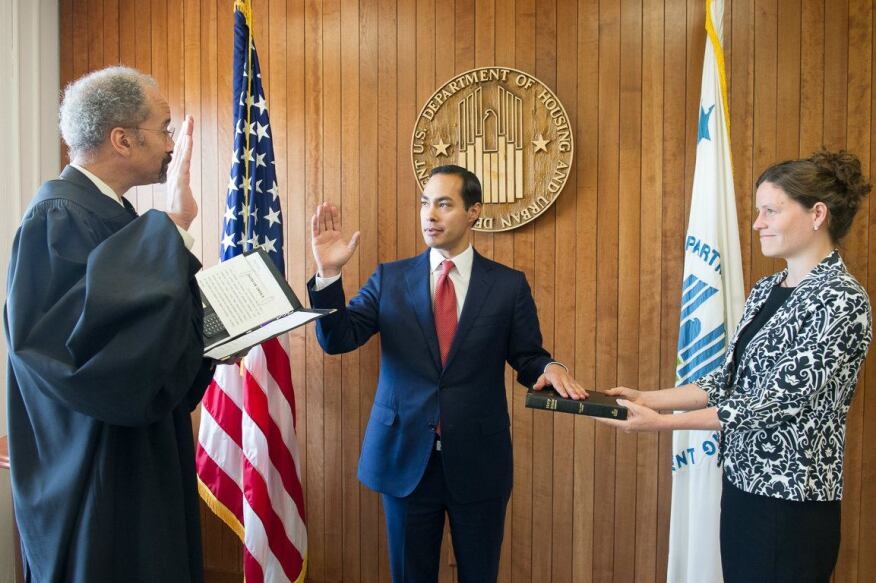 There's a change in leadership at the Department of Housing and Urban Development (HUD).
Julián Castro was sworn in as HUD secretary on July 28. With a 71–26 vote, the Senate easily confirmed him to replace Shaun Donovan, who has become director of the Office of Management and Budget.
"He should feel good about the fact that it was a bipartisan vote to confirm his nomination, but he's inheriting a department that has significant challenges," says Rick Lazio, former U.S. representative and head of the affordable housing practice at the Jones Walker law firm.
One of the foremost challenges is that "the Sec. 8 account is cannibalizing the rest of the HUD budget," says Lazio.
Along with the growth in Sec. 8 rental assistance, HUD has seen big cuts to its two major grant programs—HOME and the Community Development Block Grant. "These two programs are often used in the capital stack to make affordable housing production possible," Lazio says.
The new secretary will have the challenge of trying to make HUD more impactful given the budget constraints and the increasing demand for affordable housing, Lazio says. Others also note that Castro, who was mayor of San Antonio, faces a tough budget environment.
"The secretary will have his challenges, but hopefully he will develop a good relationship with the appropriators and oversight committees that might lead to an end of program cuts and an expansion of the Rental Assistance Demonstration program," says David Gasson, executive director of the Housing Advisory Group and vice president at Boston Capital.
In another move, President Obama has nominated Lourdes Castro Ramirez, head of the San Antonio Housing Authority (SAHA), to become assistant secretary for public and Indian housing. She would replace Sandra Henriquez, who recently left the post after more than five years.
HUD is also losing another top executive. Carol Galante, commissioner of the Federal Housing Administration and assistant secretary for housing, plans to leave her post later this year.
Galante is set to assume the I. Don Terner Distinguished Professorship in Affordable Housing at the University of California at Berkeley, where Galante will also serve as director of the Berkeley Program in Housing and Urban Policy and co-chair the Fisher Center of Real Estate Policy Advisory Board.
Extenders Bill Update
With the calendar passing the midyear point, it's looking like it will be a lost year for having a 9 percent credit floor.
A package of key tax provisions, including extending the 9 percent fixed rate for low-income housing tax credits (LIHTCs) and establishing a 4 percent credit floor for the acquisition of affordable housing that is not federally subsidized, had yet to be approved by Congress at press time.
On the House side, leaders have been intent on looking at each provision to determine whether it should be made permanent, but they had yet to take up any housing items, says Bob Moss, principal and national director of governmental affairs at CohnReznick.
Getting tax extenders approved in the next few months will be challenging because of the limited number of days left in the session and the frenzy of the midterm elections, he says. In addition, many states have made their LIHTC reservations for the year.
"It's looking more like the issue will get pushed into a lame-duck session," Moss says. He points out that the last time tax extenders were passed, it was in a lame-duck session in the first days of 2013. That gave the LIHTC industry a fixed 9 percent credit for allocations made before Jan. 1, 2014.
Additional legislation—S. 1442 by Sens. Maria Cantwell (D-Wash.) and Pat Roberts (R-Kansas) and H.R. 4717 by Reps. Pat Tiberi (R-Ohio) and Richard Neal (D-Mass)—has been introduced to establish permanent 9 percent and 4 percent credit rates, but so far there hasn't been a vehicle for those bills to move forward, Moss says.
Without a fixed credit rate, the industry uses a "current rate." For the 9 percent program, that rate has been closer to 7.5 percent recently, which means significantly fewer tax credits for an affordable housing development and a substantial loss of equity capital.
'Pay-for-Success' Bill Introduced
Legislation has been introduced in the House to establish a new program that seeks to increase energy efficiency in multifamily rental housing and reduce the $7 billion spent annually on energy and water by HUD.
H.R. 5104, which was introduced by Rep. Dennis Ross (R-Fla.) with bipartisan co-sponsors, would enable HUD to partner with intermediaries such as Enterprise Community Partners, the Low Income Investment Fund, and Stewards of Affordable Housing for the Future to help finance energy and water upgrades at HUD-assisted properties.
The intermediaries would raise private capital from philanthropic organizations and social impact investors, and then work with energy companies and others to make improvements at the properties. An independent third party would then verify to HUD that reductions in energy and water usage are actually happening, and, if cost savings are realized, HUD would remit a portion of the savings to repay investors.