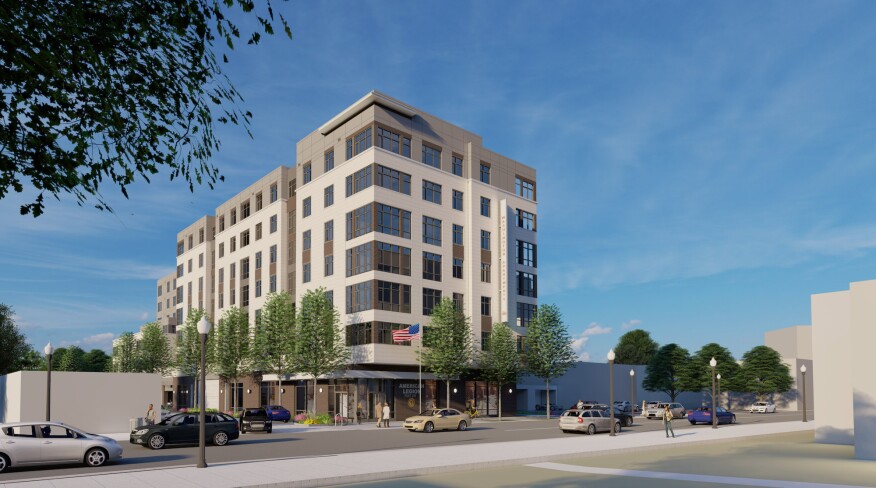 A donation from Amazon will help provide affordable apartments for some of the lowest-income households in Arlington, Va.
Arlington Partnership for Affordable Housing (APAH) has received $1 million from a $3 million gift that Amazon, which is building its HQ2 in Northern Virginia, gave to the Arlington Community Foundation in June.
The donation will help make rents more affordable in 10 of the new apartment units the nonprofit is creating as part of its American Legion redevelopment in the Virginia Square neighborhood of Arlington.
"APAH appreciates Amazon's generous contribution. Philanthropic and public funding will allow APAH to provide 18 apartments affordable to extremely low-income households, such as families living on minimum-wage jobs in the local retail and service sector," says CEO and president Nina Janopaul.
The redevelopment has become a model for addressing the challenge of finding space for affordable housing in urban settings. When the American Legion decided to sell its 1.3 acres of property with a 1950s building two blocks from a Metrorail station in 2016, APAH proposed a mixed-use space that would create a 6,000-square-foot modern Legion post with a business center and partnerships for counseling and services as well as 160 units of affordable housing on top of that, with 50% of the units having a veterans preference.
Earlier this year, housing champions Ron and Fran Terwilliger pledged $1.5 million for the redevelopment. The project is being named Lucille and Bruce Terwilliger Place in honor of the parents of Ron and brother Bruce.
With the area's affordability crisis and displacement of residents, Arlington Community Foundation president and CEO Jennifer Owens says both the public and private sectors must continue to take urgent action to keep households from being priced out of the community.
"This is an important time for all sectors to join together to pull in the same direction and make measurable progress," says Alice Shobe, director of Amazon in the community. "Amazon is deeply committed to playing a role in the success of local efforts to help people in need. We are encouraged by the momentum and hope others are inspired to join the effort."
The Arlington Community Foundation will award an additional $1.7 million via a request for information process opening later this month to affordable housing producers in Arlington, and the remaining $300,000 will be used over the next three years to pursue additional innovative affordable housing solutions.