Now in its 58th year, the Gold Nugget Awards have raised the bar for innovative architecture, planning, and construction concepts that solve fundamental building industry needs.
Typically presented at the conclusion of PCBC, the Pacific Coast's regional conference and trade show for real estate development, the top projects were honored during a virtual ceremony June 16, ahead of the in-person event that will take place Oct. 4 to 7 at the Omni La Costa Resort and Spa in Carlsbad, California.
Jurors selected merit winners and one grand winner in over 50 categories, including single-family production, multifamily, affordable, mixed-use, renovations, custom homes, and site planning, out of roughly 600 U.S. and international entries.
This year's Gold Nugget jury was made up of the industry's top designers, planners, and builders: Ike Balmaseda, partner at IDEArc Architecture & Planning; Mollie Carmichael, principal at Zonda; Debra Falese, president at Woodley Architecture Group; Laurie Ford, principal at Lomonaco Investments; John McManus, founder of The Builder's Daily; Anne Postle, president at Osmosis Architecture; Chelsea Richardson, principal, vice president at Jeffrey DeMure + Associates; and Symone Strong, assistant editor at Multifamily Executive and Builder magazines.
"For everyone, Gold Nugget is the place to take inspiration from design, planning, and development achievements that range from a jewel box custom home to lavish destination environments to affordable housing to intricate infill neighborhoods and leading-edge prototypes," says Lisa Parrish, judging chair and Gold Nugget ceremonies administrator. "And while entering is easy, winning is hard, so whether it's the first time or 58th in the Gold Nugget spotlight, taking a merit or grand is undeniably sweet."
Here's a roundup of seven affordable housing developments that garnered Gold Nugget grand awards.
Best Affordable Housing Community – under 30 du/acre: Everett Commons, Alameda, California
Builder: Alameda Housing Authority; Architect: Anne Phillips Architecture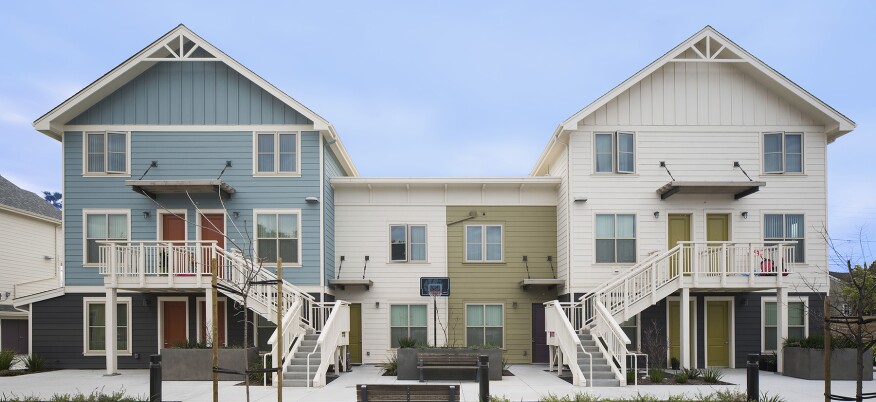 Best Affordable Housing Community – 30 to 60 du/acre: Heroes Landing, Santa Ana, California
Builder: Jamboree's Quality Design and Construction; Developer: Jamboree Housing Corp.; Architect: Architecture Design Collaborative
Best Affordable Housing Community – 60 du/acre or more: The Continental, San Diego
Builder/Developer: Jonathan Segal FAIA; Architects: Jonathan Segal FAIA and Matthew Segal AIA
Best Affordable Senior Housing Community: Victory Village, Fairfax, California
Builder: Nibbi Brothers General Contractors; Developer: Resources for Community Development; Architect: Van Meter Williams Pollack
Best Supportive/Transitional Housing: Arlington Drive Youth Campus, Tacoma, Washington
Builder: Korsmo Construction; Developer: Tacoma Housing Authority; Architect: SMR Architects
Best Renovated, Restored, or Adaptive Reuse Residential Project: Santa Ana Arts Collective, Santa Ana, California
Developer: Meta Housing Corp.; Architect: Studio One Eleven
Best On-the-Boards Affordable Housing Community: Shirley Chisholm Village Educator Housing, San Francisco
Builder: Cahill Contractors; Developer: MidPen Housing; Architect: BAR Architects
To see the full list of grand and merit winners, please visit the PCBC website.