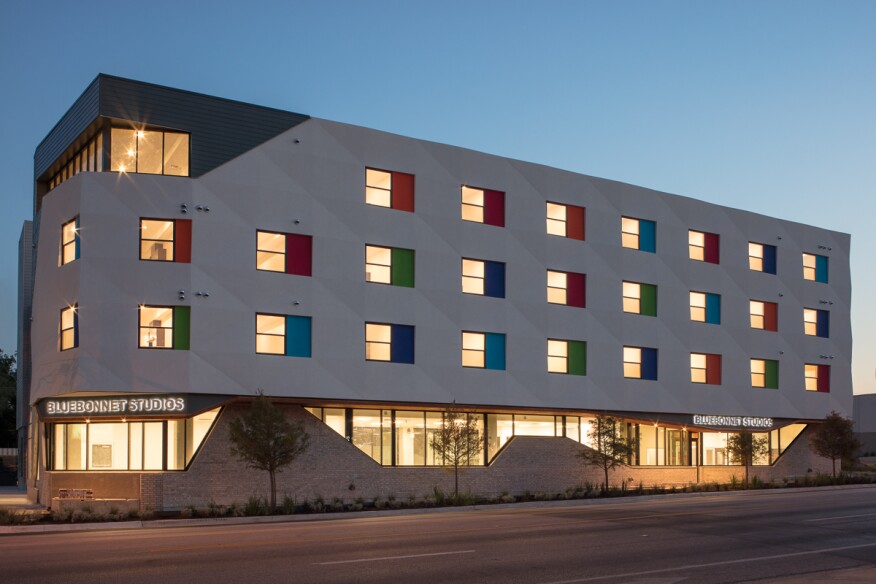 Nonprofit Foundation Communities has completed its latest supportive housing community, Bluebonnet Studios, in Austin, Texas.
Designed for extremely low-income single adults, the 107 units are fully furnished with all utilities paid. Lease-up started in early November, with over 900 people contacting the nonprofit. The developer expects full occupancy by early 2017.
"We've always had strong demand, but we are overwhelmed," says Walter Moreau, executive director of the Austin-based firm. "What we've seen in Austin this year is all of our waiting lists have grown. Every month, I end up in a meeting with one partner agency or another who need housing for their particular clients."
The project will serve chronically homeless, retirees, and single individuals who are working for very low wages. Twenty-two units are reserved for formerly homeless individuals, 22 for low-income veterans, six units for young adults aging out of foster care, and at least five units for low-income musicians.
Moreau says musicians are proud to be in the "Live Music Capital of the World," but expensive housing costs are forcing them to move. A private philanthropist committed to addressing affordability is making investments, including in Bluebonnet Studios, to help save Austin's music scene.
A service coordinator and case management staff will be on site. Programs will include fitness and nutrition classes, health education classes, health screenings, and a food pantry.
The approximately $20 million development was financed with 9% low-income housing tax credits allocated by the Texas Department of Housing and Community Affairs with equity provided by Raymond James Tax Credit Funds and Compass Bank. Additional financing was provided by the city of Austin, NeighborWorks America, Federal Home Loan Bank of San Francisco through Bank of America Merrill Lynch, and The Home Depot Foundation. In addition, $2.5 million came from local foundations and individuals.
"The largest foundation gift was from the St. David's Foundation. They are really committed to our work because housing is health care, especially folks struggling with mental illness," says Moreau. "It's really wonderful that they understand that connection between having a stable place to live and being well."